In The News
02 November 2015 - Singaport Cleanseas Pte Ltd has been certified bizSAFE Star
01 April 2012 - Being ecological friendly, Singaport Cleanseas always strive to be the leader in providing the safest service to our valuable customers. As a supporter in protecting the environment, we always upkeep the standard requirements of our barges. Singaport Cleanseas has recently invested in a new slop barge "Cleanseas Harmony" to substitute the existing slop barge "Cleanseas Ruby". We are proud to announce that "Cleanseas Harmony is the youngest and also the first double hull slop barge operating in Singapore. Our aim is to create awareness and action in keeping our environment safe, clean and green.
19 Feb 2011 - Singaport Cleanseas Charity Program "A Bowl Of Love, A Spoon of Care". Singaport Cleanseas organized a Chinese New Year lunch for the needy families & distribute "Ang Pows" to them together with Minister in Prime Minister's Office Mr Lim Boon Heng
26 May 2010 - 01 Jun 2010 - Oil spill happened on 25/5 – collision off the east coast. Singaport Cleanseas involves in the oil spill cleanup project at Tanah Merah ferry terminal, Changi Beach, Changi Naval Base & East Coast Park.
01 May 2009 - Singaport CleanSeas launches new corporate site
03 Mar 2009 - Research Development Assistance Scheme (RDAS) from National Science and Technology Board (NSTB)
Sales Hotline : +65 6264 1131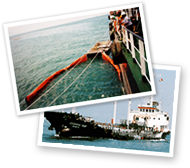 Did You Know?
Our fleet of Class 'A' slop tankers and sludge barges are anchored at strategic positions, within easy reach to accept oily slop and sludge